In Memory of TrueLuck
January, 2004 – April 13, 2007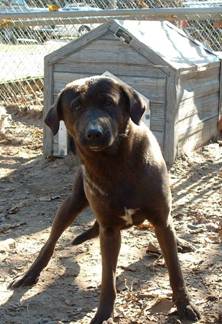 Farewell to a dear dog whose life began with no hope. Found in a ditch by caring people, he was whimpering and crying – just a tiny pup, no more than eight weeks old. His face was torn open
True ate, enjoyed ear scratching and was quiet and loving. He went everywhere – even to Tabor City's Yam Festival and La Belle Ami Vineyard, where he was petted for an entire weekend. Almost eight weeks later, our little miracle stood up and walked! It was a funny gait, extending his front legs way out and high and he turned in circles, always to the right. When he felt good, he would try to run. He'd fall down, get up and run and jump again – but always in circles. We were afraid that he could not see.The weekend was spent picking maggots out of his tiny body. Monday TrueLuck was taken to a local vet and it was recommended that he be euthanized – that is, until this torn and battered little pup crawled over and lay on the vet's feet! They immediately went to work to save his life and appropriately named him TrueLuck. True's legs were splinted and cage rest was ordered to help the hips rebuild.from the mouth to the chest and running with maggots. He could not stand, his legs and hips broken. WARM was called and TrueLuck was brought to us that fateful Saturday night.
Back to the vet who confirmed our fear – True's bones had healed but he was blind. Again, the question of euthanasia was raised, but we decided to try to raise the funds for him to be seen at the NC State University School of Veterinary Medicine. We needed a recommendation to get in and the vet gladly gave it.
We ran a special appeal for True at WARM's Adoption Center and raised enough money to take him to NC State for evaluation. There, it was discovered that the right frontal lobe of his brain was completely smashed. His only chance for survival was strictly experimental – they would insert a shunt in his brain to remove the excess fluid that was causing swelling and seizures. After the surgery, TrueLuck suffered several seizures. We returned to NC State to be told that True may have more and more seizures and may become aggressive – they were not sure what the outcome would be. True did not have another seizure for two years.
They were right about the aggression – sometimes True did get angry – usually when he was being restrained or carried in or out of his sleeping crate – but even in his anger, his tail was always wagging.
On cool mornings, True would run around in circles throwing his front feet into the air looking like a sergeant major in a marching band. He would occasionally amaze us; in fact, just two weeks before his death, he walked an almost straight line for about 35 feet – a first ever.
TrueLuck loved to eat. The night before he died, he ate a good meal and drifted off into his usual semi-comatose sleep after having grumbled his way down and was content, full and happy.
By 7 am the next morning, he was in a massive seizure and nothing we did could bring him through it. By the time he reached the vet, our beautiful, brave and happy dog had died. In seizure he did not know what was going on, felt no pain and slipped into a coma before we even got him into the van for the trip to the vet. He only had three years but that was three more than the doctors had expected.
TrueLuck was happy, healthy and had three years of life that he would not have had if he had been euthanized. True will be forever in our hearts and we will never regret having saved his life even for only three short years. No dog on this earth ever got more or better treatment. No dog was ever more loved and respected or could be missed any more than this hapless little pup that turned into a 60 lb. delight; loved by all the other dogs, especially Lady, his small lab-mix special friend. TrueLuck will always be a source of strength to us when we get depressed about the many hurt and neglected animals still out there.
THANKS TO ALL OF YOU who helped save True and gave him the life he had – YOU who put in a few to a lot of dollars in spite of others who said he should be "put down", YOU who contributed your time, prayers and love to our boy.
In memory and in honor of TrueLuck, we are establishing a TrueLuck Memorial – to help other animals that come our way that at first seem like hopeless cases. We at WARM, with your help, have taken on many tough cases over the years, but this was the hardest and for many of us, parting with this wonderful boy is the toughest of all. He is so missed.
Goodbye TrueLuck and Thank You for teaching us that life is worth living; may you enjoy the warmth and sunshine, the smells and sounds over there on the other side of the Rainbow Bridge. To all you WARM hearted folks, Thank You for helping, not just TrueLuck, but all the animals. Without people like you, TrueLuck would never have had life.